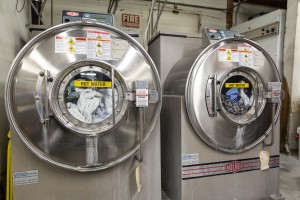 How many of you love to do laundry? How many of you would rather do almost any other chore instead of laundry? Load the washer; empty the washer and load the dryer; empty the dryer and fold the clothes. Repeat. It is a routine task that becomes more bothersome as your family grows and as the years goes by. Why? Because washing clothes is the most time consuming and tedious task of all.
Why not leave the laundry to us and save money and countless hours each week? By bringing your laundry to Flair Cleaners and letting our Wash and Dry professionals take on the task, you are not just getting clean clothes, but you are saving your precious hours for other events in your life.
You may ask, "How do I save money by having my laundry done by professionals? When you use Flair's Wash and Dry services, you will save money on detergent, bleach, dryer sheets, stain removers, water, electricity and gas.
And, remember you can include your Wash and Dry order with your Office Ambassador order at any of our five locations – Redondo Beach, Santa Monica, Burbank, Valencia or Studio City.