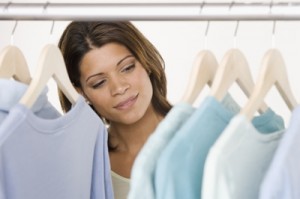 For most of us, each season means a wardrobe change. Why not take that time to inventory your clothes, thin out those you no longer wear and donate them to charity? Here are some tips that can help you sort through you clothes and determine what to keep and what to give away.
Dedicate a couple of hours to go through every item in your wardrobe.
Sort through your shoes first, next do accessories, tackle hanging clothes third, and finally, sort through drawers.
When going through clothes and shoes, consider which items others in need could use.
Ask yourself these questions:
Does this fit?
Have I worn this in the last 12 months?
Is it likely I will ever wear this again?
Is this currently in style, and/or does it represent my style?
If I was shopping right now, would I buy this?"
Once you decide to donate a garment to a charity, be sure to check the pockets and remove all personal items.
And bring your items for donation to your local Flair Cleaners during our Annual Clothing Drive from November 30th through December 31st. Your donations will go to three great local charities: Helping Hands for the Blind, the St. Vincent de Paul Thrift Stores and the National Council of Jewish Women Thrift Stores.