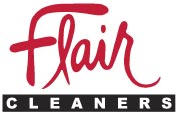 To Our Valued Customers:
In order to further ensure the safety of our employees, customers, and communities, we have decided to temporarily reduce our store hours until further notice.
Effective Wednesday, March 18, our new operating hours will be:
Monday – Friday, 8:00 a.m. to 6:00 p.m.
Saturday, 9:00 a.m. to 5:00 p.m.
Sunday, 10:00 a.m. to 3:00 p.m.
Our no-touch Home Pickup and Delivery service will continue to be available as scheduled for dry cleaning and laundry. If you wish to take advantage of this service, please sign-up online or call your local Flair Cleaners. Our drivers pickup and deliver twice a week. Leave your bags in a pre-arranged location by 9:00 a.m. on your pickup day. We'll return your freshly cleaned items on our next visit.
We are continuing to monitor and follow guidelines from the CDC, local, and state officials regarding COVID-19. We are sanitizing each of our locations multiple times daily using the recommended disinfectants to wipe down surfaces and equipment, with a specific emphasis on high touchpoints. In addition, we are reinforcing hygiene and illness policies with our employees, including frequent and proper hand-washing, and we are providing hand-sanitizer to our drivers and throughout our employees' work areas.
We assure you that we are doing everything possible to continue serving our customers safely and conveniently.
We hope that you and your loved ones remain healthy. Thank you for your continued support of our family business.
Sincerely,
The Futterman and Singer families