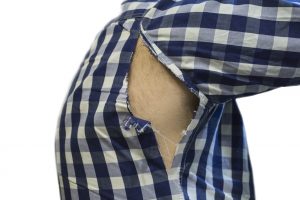 Everyone experiences it. We put our clothes away without checking to see if anything needs fixing, or we skip the tailoring. Then, as you dress, you see rips, tears, missing buttons, and broken zippers. You have four choices.
Put them back thinking, "I'll do this later." (You never will.)
Fix them immediately.
Add them to the 10.5 million tons of clothing sent to landfills in the US each year.
Bring them to Flair. Our tailors have you covered.
That's right. Americans send 10.5 million tons of clothing to landfills each year, often because they don't fit right or have a minor issue. Think about the thousands of dollars this represents, money you could spend a zillion other ways.
Tailoring
Don't throw away your favorite clothes because they don't fit right or have minor issues. Flair's tailors will custom fit and repair them so they look like new. Flair's tailors are at your service for:
Broken zippers
Torn seams
Missing or broken buttons
Rips or tears
Hems
Improper fitting clothes (let in or let out seams)
So, reduce your carbon footprint, save money, and never be disappointed by your closet again. The next time your garments need cleaning and/or repairing, bring them to Flair Cleaners for spectacular results. We even make minor fixes for free with dry cleaning.