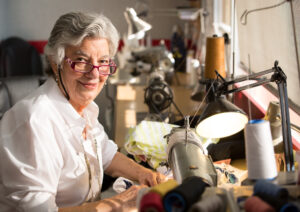 The first thing that most people think about when you say tailored clothing is formal wear or wedding attire. They rarely think about the clothing they purchase regularly. Think again. The benefits of having your clothes tailored to your body make a world of difference in how you look and feel. It also offers several advantages for people who always want to look their best but don't like to shop!
Top Three Benefits Of Tailored Clothing
The Perfect Fit. By far, this is the most significant benefit. Off-the-rack clothing fits the average body. Most of us are not average. That's why waists are too big, pants slip down, or the sleeves of shirts and dresses slide off the shoulders. Every element of a piece of clothing, including lapel widths, pleats, tapering, shoulders, bodice, waist, and more, should be specifically tailored. Not only will tailoring fix issues, but tailored clothing will help you feel better and love how you look in virtually every outfit.
Protect Your Investment. All clothing, whether custom-made or off-the-rack, is an investment that you want to protect. Tailoring can help. A well-tailored outfit is less likely to incur damage. Clothing that is too loose can catch and tear, while seams that are too tight can pop. A small initial investment in tailoring will pay off in the long run.
Personal Style Matters. When you custom-tailor your clothing, you get the opportunity to express yourself with the exact outfit and fit you have in mind. When tailoring for fit, add some embellishments so every garment reflects your style.
Flairs Tailoring Services
Your investment in tailor-made clothing deserves the highest level of care. For all your custom and bespoke tailoring, alterations, or redesigning needs, trust the care of your garments to our skilled tailors. Check our website to learn more about our tailoring services.