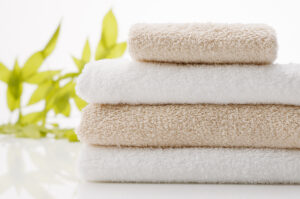 If you are a busy parent, a hard-working professional, or if you just hate doing laundry, we've got your solution! 
Our Wash & Fold service saves you time and ensures that you have fresh, clean laundry when you need it without the work that goes along with it. Drop off your laundry at any Flair Cleaners location. Or include it with your Pickup and Delivery order. We'll return it freshly washed and folded.
Flair's Wash & Fold service is perfect for virtually any type of machine-washable items – towels, sheets, T-shirts, socks, undergarments, gym clothes, and more. Your lights and darks will be separated and washed with the correct temperatures and finest detergents, then dried before being carefully folded. For a special touch add Flair's flat finishing service and enjoy the luxury of professionally ironed sheets, pillowcases, other bedding, and table linens.
At Flair, we know you have a 24/7 lifestyle. That's one of the reasons why we give your clothes the same care and attention to detail that you do.