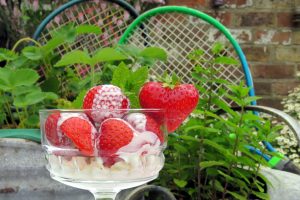 Whether you are lucky enough to attend or watching with friends, serve up style this year for Wimbledon. After all, it's the event of the season when it comes to sport, fashion, and parties.
If you're hosting at home, it's essential that your family and friends don't miss a single minute of the live action. In addition to your TV, set up tables and iPads in every room and even outside to live stream the action. And, since travel's not involved you can spend a little more on décor, party favors, food, and of course, fashion. Here are a few tips for the perfect game, set, and match:
Party Tips
"Food court." Incorporate the tennis theme into the table setting and every dish. Of course the traditional stawberries and cream are a must-have. Try adding cake pops decorated like tennis balls, lime macaroons with strawberry cream. Setup a table tennis net to divide the table with snacks on one side and drinks on the other. Cut the tops off tennis balls and fill them with treats and party favors for guests to take home.
Cocktails and mocktails. Create your own drinks named for famous players. Or serve the traditional Pimm's Cup Wimbledon Cocktail recipe. Substitute sparkling water for alcohol to make a mocktail version .
Indoor Games. Create and play a trivia game about Wimbledon, the players, and the sport. Give prizes to the winners that are tennis themed like a can of balls, tennis gear, or even a reservation at a local tennis club.
Outdoor Games. Take a leaf from the Easter Bunny and host a tennis ball scavenger hunt. Give guests a basket and let them loose to search for tennis balls. Cut off the lid and fill some with candy, wrist bands and other small tennis items, and leave some new ones in tact. Get a can of colored tennis balls and award special prizes to those who find them.
Fashion. Ask guests to dress in their best tennis whites, or include these tips from British Vogue when you send the invitation:

Wear simple, clean-cut lines, like the court itself.
Comfort is key, as there's no saying how long a match can go on for.
Choose flats over heels.
Don't forget your sunglasses.
 If all else fails, choose a T-shirt with Andy Murray's face on it.