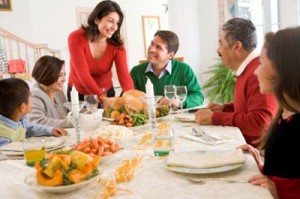 The holidays are over and you've enjoyed wonderful meals with family and friends. Now, it is time to clean and pack away your favorite table linens so they are ready for next year.
As you pack them up, you notice stains on them – bad stains. What do you do? Never fear, just follow these simple steps:
First, identify the types of stains . This will help Flair professionals treat them properly.
Blot spills and stains with a clean white cloth.
Don't try home remedies – different stains (such as grease, coffee, food dyes) react differently to different spot removing agents. The risk of setting a stain by using the wrong treatment outweighs any possible benefits.
Don't use bleach as it can accelerate fabric damage and cause yellowing that is difficult even for professionals to remove.
Bring your linens in to Flair as soon as possible to increase the chances that our professionals can remove the stains successfully. Older stains can oxidize, which complicates the removal process and can cause a lasting mark.
If you have questions, just give our team a call.