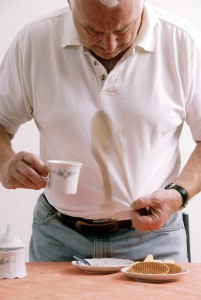 If you drink coffee, you've undoubtedly dripped or spilled some on your clothes, and most likely on a light colored garment where the stain will show!! As with almost any stain, your best chances for completely removing coffee stains is to treat them immediately after the spill occurs. While there are several steps you can take to try to remove coffee stains, your best option for complete eradication is to take your garment to Flair Cleaners where we offer expert spotting (or spot treatment) services. When you bring in the garment, be sure to point out the stain and let us know it was caused by coffee, and whether or not there was milk, flavorings, sweeteners, or sugar in the coffee. Different ingredients require different treatments.
If you can't make the trip right away, try these stop-gap measures. They may help lessen the stain and make it easier for Flair to completely remove what remains.
Blot as soon as possible. Take two towels. Press against the front and back of the stain from the interior and exterior of the garment to remove excess liquid.
Under cold water, rinse the stain, blot and repeat. You may want to rub it gently from the center outward in a circular motion.
Using home remedies like vinegar or commercial stain removal treatments may help, or they may set the stain or even damage the garment depending on the fabric and what was in the coffee. Washing and drying the garment in warm or hot water also can set the stain permanently.
While some people are confident tackling stains at home, others enjoy the comfort of knowing that stain removal – even coffee stain removal – is done professionally. For more information or professional guidance before treating at home, stop in or call the clothing care specialists at Flair.