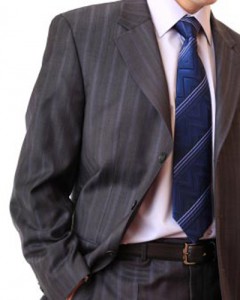 Why should you take the time to maintain and store your wardrobe properly?
First, good clothing that is properly maintained always looks better than more expensive clothing that is neglected. Protecting your wardrobe costs much less than having to buy replacement clothing every few years. And while proper wardrobe maintenance requires discipline, it is a small reflection of the larger way in which you live your life. Here are some tips for maintenance and storage of your men's wardrobe:
All it takes is 30 seconds and a clean brush with stiff bristles to clean your suit coats and trousers after each wearing. Doing this removes the dirt and food that has accumulated on the outer layers before they have the chance to settle into the fabric. When it is time for cleaning, Flair Cleaners has the professional staff to clean and keep them looking like new.
Polish your footwear on a regular schedule. Not only does shining your shoes look good, the polish itself helps moisturize and waterproof the leather, lengthening their lifespan.
Make minor repairs and alterations as soon as they arise. Are your trousers too tight in the backside? You'll very likely split the seam before you lose the weight. Best to have the trousers opened up an inch – they'll look and feel better. Does that suit jacket button look like it's going to fall off? Cut the string and repair it immediately or you'll spend hours trying to match it or spend money on an entirely new set. Flair's tailoring services are available daily to help you with all your tailoring needs.
Store your clothing and footwear in a cool, dry, clean, and dark environment. All four of these factors are important to retard bacterial growth, discourage insect infestation, and prevent UV damage and color fading.
Wooden shoe trees should be a mandatory purchase for any man who wants to get more than a couple years out of his leather shoes. They maintain the shape of the shoe and prevent the leather from warping in a way that would promote premature cracking.
With cotton, you have little to worry about when it comes to moths. However, cotton can still be permanently damaged if it's exposed to moist conditions for prolonged periods – mildew will literally digest the cellulose fibers.
Not a lot of storage space for your wardrobe? Rotate your clothing. If you're not going to wear it in the next month, fold it, pack it, mark it, and store it. Then you have at your fingertips only the clothing needed; when the weather begins to turn simply rotate to jackets and shirts more appropriate to the season. What you want to avoid is an overstuffed closet. As a rule of thumb, try to maintain at least 1/2 inch between garments for airflow and ease of selection.