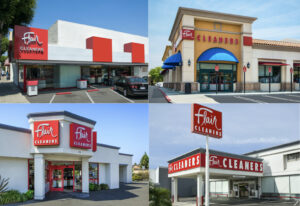 Flair's four stores are open 7 days a week for counter service so you can drop-in and drop off your order! We'd love to see you during our current hours:
Monday through Friday from 8:00 am to 6:00 pm
Saturday from 8:00 am to 5:00 pm
Sunday from 10:00 am to 4:00 pm
We promise to keep your health and safety our top priority. You can read more on our website about what we are doing every day to give you the best experience possible.
Of course, if you prefer, you can take advantage of our free no-contact Home Pickup and Delivery service for your convenience. If your to-do list is longer than your day, we can help! We'll pick up and deliver your dry cleaning and laundry twice a week, right to your front door. Simply sign up online or at one of Flair Cleaners' four stores. Once we confirm that you are within our service area, a Flair team member will contact you to schedule your first pickup. It's that easy.
GreenEarth at all Four Stores
Take advantage of Flair's full range of services. We offer state-of-the-art dry cleaning, wash and dry laundry service for clothing,  household linens and bedding, and specialty items. Our dry cleaners use only GreenEarth, which is pure and gentle on clothes and skin, but tough on dirt and stains. Your clothes come back clean, and soft and luxurious to the touch. You can see the difference for yourself. Whites don't yellow, colors won't fade, and wools never get that "washed out" look no matter how often we clean them. Clothes cleaned with GreenEarth look newer longer because the unique silicone technology won't damage fibers like conventional dry cleaning. And, because GreenEarth is all natural, your clothes will never have the unpleasant chemical odor that comes with using conventional petrochemical cleaning solvents.