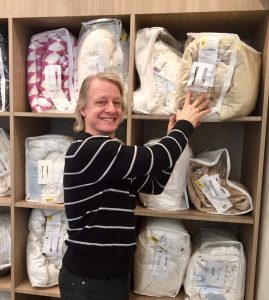 Tom Adams is probably a familiar face to many of our Santa Monica clients. He works as a key person supervisor, which means he opens and closes the store and works closely with customers to resolve any questions. Tom started with Flair Cleaners in 2004 and quickly earned a reputation as someone who cares, who has a can do attitude, and who always has a smile on his face.
"My favorite part of the job is working with customers," he said. "I feel like they are friends I've known a long time. I've see their kids grow up over the years and shared their achievements and challenges."
TLC – Tom Loves Customers
Tom knows all the customers by their first name, and they know him. Many ask for him when they come in. They bring him coffee and were quick to offer condolences when his parents passed away. "I think it's because I listen and take them seriously," he said. "If they have a problem or a special request, I work hard to understand their needs and make it happen. It's the right thing to do!"
One customer would come in and ask for help tying his necktie. Tom was happy to help him.
The dry cleaning business was new to Tom when he started at Flair. He had a friend who worked here and thought it would be interesting! In the 13 years he's been here, he's seen many changes, mostly in automation, and of course, when the store was remodeled. He believes these changes have made the business more welcoming.
Our customers tell us that one of the most welcoming parts of Flair Cleaners Santa Monica is Tom. If you haven't met him yet, be sure to say hello on your next visit.