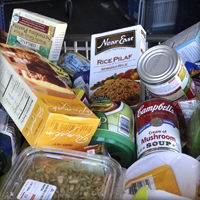 The Flair Cares Spring Food Drive continues through May 31, 2017.  All five Flair locations, Santa Monica, Valencia, Studio City, Burbank, and Redondo Beach, are collecting non-perishable food items. We deliver the food weekly to nonprofits in our communities we serve. Here are two of the organizations we support.
North Hollywood Interfaith Food Pantry
Founded in 1983 by 10 local religious congregations, the North Hollywood Interfaith Food Pantry addresses the challenge of hunger in our communities. The all-volunteer organization operates as part of the San Fernando Valley Interfaith Council, Inc.
The North Hollywood Interfaith Food Pantry distributes food twice a week, 52 weeks a year to anyone in need. The organization receives food donations from local  churches, individuals, schools, and community organizations like Flair Cleaners.
Burbank Temporary Aid Center
In 1974, the Ministerial Association and the Burbank Coordinating Council recognized the need for a centralized source of services for the less fortunate in the community. The Burbank Temporary Aid Center addresses these needs. The center provides the poor, working poor, low-income seniors, and homeless of the community with basic services they need to live with dignity. Additionally, it serves individuals in times of emergency and disaster.
As a conduit between the generous donors of the community, foundations, and government resources, Burbank Temporary Aid Center's 75 volunteers provide clients with food, utility assistance, transportation assistance, emergency shelter, medical assistance, and holiday outreach.
In 2006, after an 18-month building effort, Burbank Temporary Aid Center proudly unveiled its new 5,500 sq. ft. facility. It includes a modernized food pantry, client laundry and shower facilities, private interview rooms and other features important to accomplishing their mission.
Flair Cares Spring Food Drive
To participate in the Flair Cares Spring Food Drive, bring unopened, non-perishable, canned or boxed food to any Flair Cleaners. Items that have passed their expiration dates or food in glass jars cannot be accepted. Visit our Facebook page for a complete list of items that are needed. Everyone who donates will receive a coupon for 50% off a future Flair Cleaners dry cleaning order.