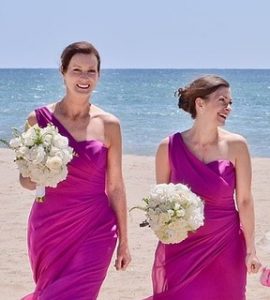 How exciting…you were honored to be part of your BFF's wedding as a bridesmaid. Now that the celebration is over, though, it's time to think about the best way to clean your special dress. Bridesmaid dresses are not ordinary dresses. They require TLC – if you want to wear them again, that is. Here are some important tips.
Cleaning Your Bridesmaid Dress
Different fabrics require different types of cleaning. So, know the fabric – or fabrics – used in your dress. Some can be washed, but most require dry cleaning. Check the details of your dress as well. If it is heavily beaded hand washing is advisable. Putting it in the washer may ruin beading or lace.
If you choose to hand wash the dress, use cold water only. How water may stress the fabric. Use mild soap and gently agitate the water. Do not rub the fabric together. It can cause wear, and it can set stains more deeply.
Check for stains. These can be difficult to treat, especially if they stay in the fabric too long. Different stains require different cleaning processes. If you aren't sure about how to treat the stain, or what the stain is, you should bring it to the dry cleaner.
If you choose to wash your dress at home, zip the zipper, and undo the buttons. Turn the dress inside out to prevent fading. Use mild, natural soap and was in cold water for as little time as possible. Air drying your dress is best, in a shady area. Lay heavy dresses down on flat surfaces so they hold their shape.
Be careful when ironing your dress. Use a clean steam iron and an ironing board with a clean cover. This prevents marks. Gently iron the dress on low heat.
The tags on your dress should give you an idea of the best way to clean your dress. Follow the instructions carefully. If the tag says Dry Clean Only or Machine Washing Not Advisable or Hand Wash Only, you may want to bring the dress to your nearest Flair Cleaners.
Store your dress carefully. Place it in a breathable garment bag and hang it in a dry, dark closet. Clean the garment bag at least once a year.