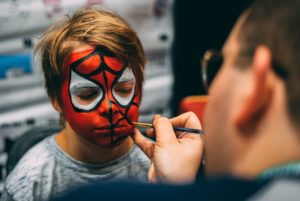 Halloween is the perfect time to put on a new face. We asked the pros one of the local studios for some makeup tips we could share with our customers.  Here's what they had to say!
Remember, Halloween is typically a cooler night, so take that into consideration when planning what to wear and how to look. A pullover top can mess up your work and get oily stains on your clothing.
Tips
Start with a clean face. FX artists suggest using an astringent to remove facial oil. Then, rinse in cold water to minimize pores.
Apply a very thin coat of Vaseline to speed makeup removal. Be careful, though, it's an oil-based product the can easily stain your clothing.
Work near a good light source.
Apply foundation after applying special effects like latex scars or noses. Apply the foundation lightly with gentle rubbing. Then pat to blend.
Create texture by dappling with a brush to generate a more unusual appearance. Use a coarse texture sponge for added effects.
Apply thin coats of makeup, one color at time. Allow it to dry completely.
Perspiration can ruin unset makeup. So if you are planning an evening of devilish fun, set your makeup properly. Baby powder is an inexpensive and effective tool for this.
If you are putting a costume or clothing on after applying make-up be especially careful not to smudge it or stain the garments. Always remove clothing before taking off your makeup.  Bring any oil-based makeup stains to Flair. Trying to clean them at home will likely cause them to set permanently.
Not sure what you want to be?  Check out these cool Halloween makeup tutorials, and get creative. Be careful, these ideas are so fun that you might just want to wear a different look every day in October.