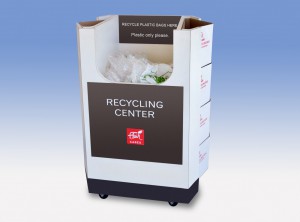 At Flair, we strive to do our part every day to keep our environment and communities healthy. We are committed to using the most advanced environmental practices and technologies, without sacrificing results. In recognition of this commitment, Flair received California's WRAP award (Waste Reduction Award Program) for nine consecutive years.
Certified Environmental Dry Cleaners
Flair is one of the only dry cleaners in Southern California to repeatedly receive the prestigious Certified Environmental Drycleaner (CED) status from the Drycleaning & Laundry Institute. This certification, first earned in 2009, recognizes Flair's thorough understanding and adherence to the country's most advanced environmental and safety regulations. As a customer, this means you can rest assured that we have in-depth knowledge on a wide range of environmental practices vital to helping keep our planet green.
GreenEarth

Since 2010, Flair has led the Southern California dry cleaning industry in its use of the GreenEarth Cleaning process, the preeminent environmentally safe, all natural dry cleaning process.
GreenEarth is pure and gentle on clothes and skin, but tough on dirt and stains. Clothes don't just come back clean, they come back rejuvenated. Fabrics feel soft and luxurious again, silky and smooth to the touch. You can see the difference for yourself. Whites don't yellow, colors won't fade, and wools never get that "washed out" look no matter how often we clean them.
Clothes cleaned with GreenEarth look newer longer because the unique silicone technology won't damage fibers like conventional dry cleaning.
Because GreenEarth is all natural, your clothes will never have the unpleasant chemical odor that comes with using conventional petrochemical cleaning solvents.
The secret is in the sand. Unlike traditional dry cleaners, which use petroleum-based solvents called perc and hydrocarbon, Flair's GreenEarth cleans with pure liquid silicone. In essence, it's liquefied sand that is non-toxic, non-polluting and 100% odor-free. It's the same natural sand the earth has been creating for over six billion years. In the environment, GreenEarth simply returns to its three natural elements: sand (SiO2) and trace amounts of water and CO2. In addition to using GreenEarth, we invest in the most sophisticated dry cleaning machines that are gentle on clothes and most importantly, effective in cleaning your garments.
The Better Bag
Flair's Better Bag can help you save money, time and the environment. Three bags in one – a laundry bag, duffel bag and garment bag – The Better Bag is made from 100% recyclable polypropylene, a breathable and washable fabric. Each bag holds up to 10 garments and includes a handy side zipper that makes checking your dry cleaning order simple.
Best of all, the Better Bag is recyclable, so if it ever wears out, just bring it in; we'll recycle it for you and replace it for free. The Better Bag is available at all of our Flair Cleaners locations for only $6.00 each or two for $10.00.
Together customers using The Better Bag have helped us keep more than seven tons of plastic bags and paper hanger covers out of local landfills since 2009.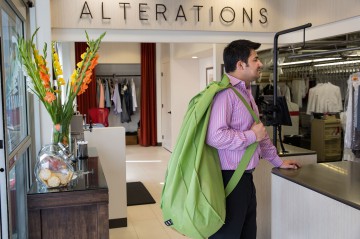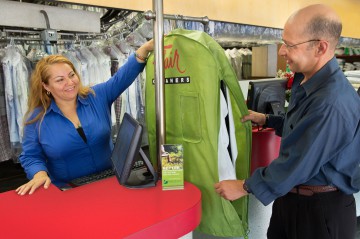 Hanger Caddy Simplifies Recycling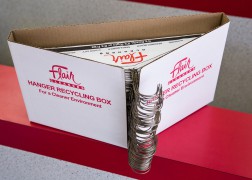 Flair Cleaners' complimentary Hanger Caddy makes it simple for our customers to reduce the number of hangers that go into our nation's already-stressed landfills. The next time you drop off or pick up your dry cleaning or laundering, just ask any of our employees how to get started. They'll provide you with a free Hanger Caddy to keep at home. Simply save your hangers in the caddy, and when it's full, bring it in with your next dry cleaning or laundry order. We'll take it from there. It's pretty simple, but it's already having a big impact; almost 30% of Flair hangers are now being reused or recycled.
Plastic Bag Recycling
Each Flair Cleaners location has a handy recycling bin for plastic dry cleaning bags. Because recycling guidelines vary in different cities, Flair encourages customers to return their bags to us to ensure they are recycled properly and to make the recycling process as easy as possible.