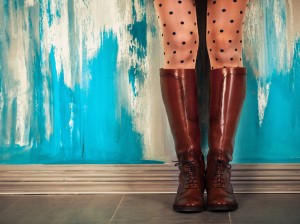 Boots are back in a big way. At a café recently, 50% of the women we saw were wearing boots of all different styles, colors and heights, and they looked fantastic. To look outstanding instead of standing out in boots, first pick the right pair and second keep them looking perfect!
Fashion stylist Leila Wolford suggests buying boots to fit your body. She advises:
If you are petite boots should elongate your leg. A high heel or platform boot will give extra height and a pointed toe will add to the illusion of length.
Women with thin ankles and calves should try stiletto-heels.
Women with an hourglass figure should select boots with some sturdiness such as a cone heel, paired with a platform for extra lift and style.
If you want a slimming look go for a knee-length boot, in one solid color, with a stacked heel.
If you have broad shoulders the wedge boot provides a visual anchor to balance the top of your body.
For a tall, slim body type, the ideal boot is a flat riding boot or for an edgy look, an over-the-knee boot.
Even the perfect boot fails if not properly cared for. Regular cleaning, polishing and repair are essential for a stylish look. Join Southern California's fashionistas and trust your beloved boots to Flair's expert cobblers, the preferred choice for boot and shoe care for decades.