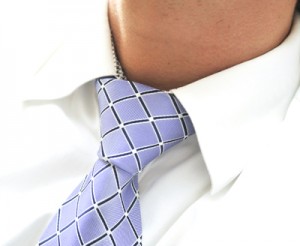 Did you ever wonder how neckties became such a fashion statement?  Most historians agree that the necktie originated in the 17th century, during the 30 year war in France. Croatian mercenaries hired by King Louis XIII wore a piece of cloth around their neck as part of their uniform. While these early neckties tied the top of their jackets, they were also quite decorative. King Louis liked the look so much that he made these ties a mandatory accessory for Royal gatherings. He named them  La Cravate in honor of the Croatian soldiers. To this day, la cravate means tie in French.
Over the years, ties have changed. Today, they are available in many widths, cuts, fabrics, and patterns. Ties let today's man express his own personal style.  Knitted ties became popular in 2011, and 2012 saw a strong trend toward bold florals and paisleys – something that continues today.
While neckties are a fashion statement for men, they are a  problem for cleaners. The fabric used for ties is cut diagonally to the weave, or "on the bias," so it makes a neat knot when worn around the neck. Unfortunately, this type of cut is easily distorted or stretched, causing puckering and fullness. In many instances, sizing or finishes are used during manufacturing to stabilize fabrics. If the finish is removed , the fabric will lose its shape and stability.
That's one more reason to always dry clean neckties.   Our professionals know the best treatment for all types of ties and will use the approach that ensures your ties last a long time.