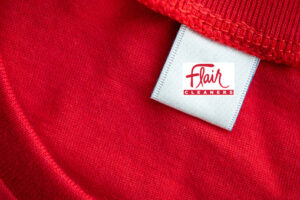 Clothing labels should be the first reference point when it comes to clothing care. The little tag on the inside of your favorite top provides helpful instructions to ensure your clothing gets proper care. Often labels are missing, the wording on printed labels is faded, or the symbols are confusing. No worries, call Flair and let us help you determine if you should wash or dry clean.
Here are a few tips on which fabrics should be dry cleaned professionally and which you can take care of at home.
Leave these to Flair 
As a rule, dry clean silk and leather. For a quick fix, gently scrape off spill residue. Never use water as it can set the stain or, in some cases, damage the material. After that, trust it to the experienced professionals at Flair for long-term maintenance. The same rules apply to other delicate and fragile fabrics. In addition to silk and leather, professionally clean other upscale materials—like chiffon, velvet, and wool to preserve their natural luster and form. You'll also want to entrust suits and most professional wear—especially wool pieces—to the care of a professional.
These May Be Washed At Home
Wash cotton in warm or cool water with regular detergent. Use warm water on delicate or permanent press for synthetic fabrics such as polyester and nylon. Take care when drying these items to avoid permanent wrinkling.
Wash luxurious pieces such as cashmere blends by hand in cold or lukewarm water with gentle laundry soap (or bring them to your trusted dry cleaner). Never wring the fabric as it may ruin the material. Instead, dry it flat or use a mesh drying rack to help the clothing keep its shape.
Proper jean care is quite specific. Wash most jeans inside-out in cold water and hang to dry. Some high-end denim should be dry cleaned. For raw denim, which means denim in its purest, non-distressed form, it is best to wipe a spill away with a damp cloth or take it to the experts for extra help.
Accessories
Certain pieces require special attention, a straw sun hat. Use a damp cloth to wipe away dirt, dust, or sweat stains from any cap, and keep them in a cool, dry spot to avoid color damage. Fringed or embellished items are complicated to clean. Most sequins or fringed items require handwashing in a gentle detergent, while embroidered pieces should be machine washed inside-out and placed in a mesh laundry bag on the delicate cycle.
When in doubt, visit Flair to be sure every one of your cherished items gets proper care. And, don't forget we don't just do dry cleaning, try our Wash and Fold laundry service.