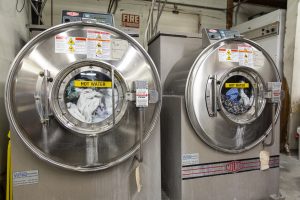 One of the questions customers ask is whether or not their shirts should be dry cleaned or laundered.  This may surprise some of you as most people will assume laundering is the best option. This question, however, is actually a very good one.
Whether or not you dry clean or launder your shirt really depends on the fabric and construction of each shirt. Some hold up better with dry cleaning while others are fine being laundered.  Laundering uses special detergents that are mixed with water and agitated during cleaning. Dry cleaning uses cleaning solutions and soaps  in the cleaning process. We always use the GreenEarth Cleaning process as it's better for the environment, your clothes and you.
At Flair, we launder and press cotton button down shirts because cotton fibers react only minimally to water. They rarely shrink, shrivel or deteriorate. Laundering is also more effective for removing  stains normally found on dress shirts.  We recommend dry cleaning shirts that are made with fabrics or blends that might be damaged, shrink and color bleed or fade during laundering. Finally, we read the labels to learn what  fabric blends, dyes and finishes were used and their cleaning requirements.
The bottom line is that the right process should be used for the appropriate fabric. At Flair, the decades of experience and training our professionals have will help you make the best decisions on how to clean each of your shirts.