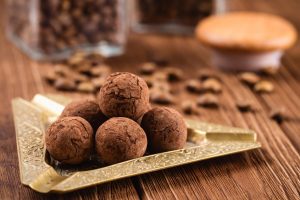 Everyone loves chocolate, except when it comes to stains! Yet this time of year, from National Chocolate Cupcake Day to Halloween, and then on to winter holidays, can almost be renamed Chocolate Stain Season. At Flair, we care, not only about your clothes, but also about helping you look your best whatever the season. Chocolate stains might look dark and difficult, but they don't have to leave their mark on your clothes. Our pros put together a few tips to help you deal with chocolate stains.
Before you begin, though, read the care label. Bring any "dry clean only" clothing to Flair Cleaners, and let us know about the stain. Or, if you simply prefer to let Flair get out the stain, bring any of your garments to our pros.
Keep It Cool
First, take it back to its solid state before it can melt further into the fabric. The deeper it gets, the tougher it will be to lift out. Place the garment in a plastic bag (stain facing outwards so that it doesn't spread onto clean parts of the garment) and place it into the fridge or freezer until it's hard.
Using a blunt knife or something similar, gently scrape or lift the excess chocolate off the clothes. Be careful not to catch any of the fibers or to press any chocolate further into the fabric as you are scraping.
When you think you've got as much off as you safely can, finish with a quick wash with an enzyme-based detergent. The enzymes help break down the stain and release it from the fabric.
Water Works
Another option is to rinse the back of the chocolate stain with cold water.
Never use hot water on a chocolate stain, as this will set it permanently.
Run the cold tap over the stain for a couple of minutes to release it and to stop it getting any deeper into the fabric.
Wash as usual with an enzyme-based detergent.
Keep in mind that if you try an at-home treatment and it doesn't work, the stain may become permanent.