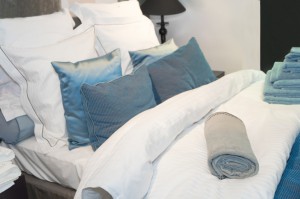 In any season, there is almost nothing nicer than climbing into bed and snuggling beneath a fluffy down comforter. It feels simply decadent! But, what if your comforter isn't comfy? Like all things, comforters age, but with proper care and a little TLC, yours will stay fluffy throughout its lifespan. Here's how.
Comfy Means Fluffy
Down comforters provide exceptional comfort because of their thousands of tiny down feathers. These feathers tend to bunch, however, and require regular fluffing. When you make your bed each day, hold your comforter at one end and shake it the same way you'd shake out a rug. This helps the feathers redistribute and settle more evenly.
For even more fluffiness, was the comforter cover regularly. This simple step lets you easily change the direction of the comforter inside so it has room to breathe and resettle. It's kind of like turning your mattress. Finally try putting your comforter in the dryer on low (don't wash it) with a tennis ball or two for weight. This fluffs the feathers and, if you do it right before bedtime, provides added warmth.
Cleaning
Keeping your down comforter fresh for as long as possible includes regular cleaning. Dry cleaning is the safest way to remove the dirt and dust, fluff the feathers, and keep it looking and feeling like new, without risking damage.