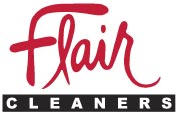 To Our Valued Customers:
Flair Cleaners is closely monitoring the situation regarding novel coronavirus (COVID-19) as the safety of our employees and customers is our highest priority.
With this in mind, we have increased the frequency of sanitizing and cleansing throughout our locations to multiple times a day. We utilize recommended disinfectants to wipe down surfaces and equipment, with specific emphasis on high touchpoints.
In addition, we have reinforced existing hygiene and illness policies, including frequent and proper hand-washing, with employees. We have provided hand-sanitizer to our drivers and have made it available to employees throughout their work areas.
We assure you that we will do everything we can to continue to serve our customers safely and that we will continue to closely follow CDC, local and state guidelines as they are updated.
Currently, all of our stores remain open and our Home and Office Pickup and Delivery services are running on schedule. Should you wish to take advantage of our Pickup and Delivery service, please contact your local Flair Cleaners.
We hope that you and your families remain healthy. Thank you for your continued support.
Sincerely,
The Futterman and Singer families