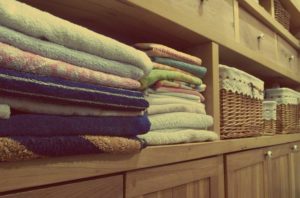 If you're like most people, your linen closet is one of the hardest places in your home to keep tidy! Don't worry, we've got your back. With a little determination and creativity, you'll be posting pictures of your linen closet online in no time!
Linen Closet Helpers
Organizing your linen closet is much easier with the help of a few simple and inexpensive items. And, most of them work great in kitchen cupboards and bedroom closets!
Look for wire shelf dividers that clip on to your shelves. This lets you create individual spaces for each type of linen.
Wicker baskets for small items. Be sure to sort similar items into separate boxes and label them so you can find them more easily. Or use collapsible closet storage bins. They store flat when not in use.
If you store your iron and ironing board in your linen closet – or you'd like to – use wire caddies that hang over the door and are designed especially to hold an iron and ironing board. This works well on the back of a bathroom door as well.
Stacking wire drawer systems are great for tall shelves or floor storage. They are ideal for small items and maximize the use of space.
If your linen closet is small, try an over-the-door towel tree in your bathroom. Towels and washcloths slide in easily so they are easy to access when needed. And, it leaves room in the linen closet for bigger items.
Keeping linens clean and folded is essential to maintaining a clean linen closet. That's one place Flair's laundry service can make a big difference in simplifying your life.