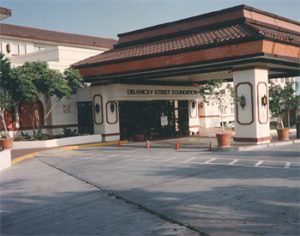 At Flair Cleaners, we believe that Living with Flair is a right everyone should enjoy. That's why we have supported The Delancey Street Foundation for decades by providing complimentary cleaning services to its residents.
About Delancey Street
The Delancey Street Foundation is considered the country's leading residential self-help organization for substance abusers, ex-convicts, homeless, and others. It operates strictly with the help of volunteers, residents, and donations. The Los Angeles facility is located near midtown, right off the Hollywood freeway. The facility houses approximately 300 residents and was originally a 220-room hotel. The residents have completely renovated the building since 1993. They turned the guest rooms into living units ranging from dorms for the newcomers, to small apartments. In addition, they opened up the dining area to 6,000 square feet for resident meals.
Rather than solving one issue at a time (e.g., drugs or job skills) the program believes that all aspects of a person's life interact. And, they believe that all people must interact legitimately and successfully with others to make their lives work. Therefore, Delancey Street operates as a total learning center in which residents learn (and teach) academics, vocational skills, and personal, interpersonal, practical, and social survival skills. The program's foundational belief is that the best way to learn is to teach; that helping others is an important way to earn self-reliance.
Delancey Street-Los Angeles also has a 50,000 square foot warehouse Business Complex in Montebello. This complex houses a number of Delancey Training Schools including moving and trucking, automotive, auto body shop, warehouse, shipping and receiving, terrarium, ceramics and iron handcraft works, and sales.
For over 40 years Delancey Street has been developing a model of social entrepreneurship, of education, of rehabilitation, and change that is exciting and full of hope. Flair Cleaners is proud to be a part of this great program.